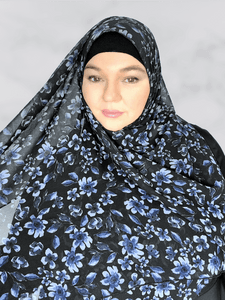 Black dark blue floral chiffon hijab
Look fabulous and feel confident in this Black dark blue floral chiffon hijab. Crafted from pebble chiffon for superior comfort and quality, the rectangular shape shawl measures 78x29" that drapes beautifully over you. Complete an elegant look that lasts all day with 100% polyester fabric and machine washable. Handcrafted by Maida's Hijab World with love. Make a statement! 
Undercaps & other accessories are sold separately. If you like to purchase a set, check out gift set collection. 
You can also create your own gift set, at check-out mark the " gift wrap " option and leave a note with any custom instructions.