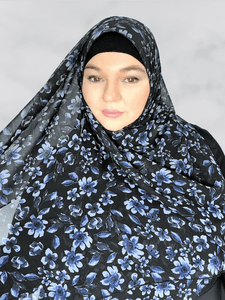 Black & blue floral chiffon square hijab
This will become your favorite go-to black print hijab. What you can't notice in the picture is the supreme quality of this fabric. It is air light, flowy, it drapes like a dream, it is so light you will forget you are wearing it!  
As you know, Maida's Hijab World is your place if you love large square hijabs, and when  I say large, I mean- Large. They measure about 48x48" which gives you so much fabric to play with, but because of the light nature of this material it will not feel bulky or heavy. 
Square- 48x48
Machine wash warm, hang to dry, iron as needed on low, no bleach
100% Polyester 
Handcrafted in USA with domestic and imported materials. 
Available only at Maida's Hijab World