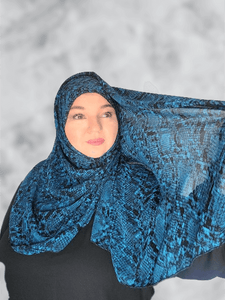 BLUE & BLACK SQUARE HIJAB
Be daring and wild with this Blue & Black print chiffon hijab! With its snakeskin print design and dark blue and black hues, you'll be making a statement in no time. Crafted with a light and smooth texture - perfect for any season - it promises to keep you stylish, cool, and chic. So, wrap it any way you like and dare to stand out!
Measurements 48x48"
100% Polyester
Machine wash warm, tumble dry or hang to dry, iron only if needed. No bleach
Handcrafted in USA available only at Maida's Hijab World.