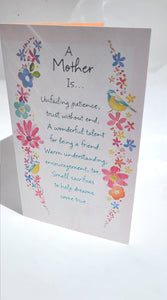 A Mother is... Mother's Day greeting card
A Mother is..
Unfailing patience,
Trust without end,
A wonderful talent for being  a friend...
Warm, understanding, 
Encouragement too,
Small sacrifices 
To help dreams come true...
Caring  and sharing
Right from the start
Because of the love
That is in her heart...
All these make a mother,
And make her loved, too 
Especially  a wonderful  mother like you!
Happy Mother's Day