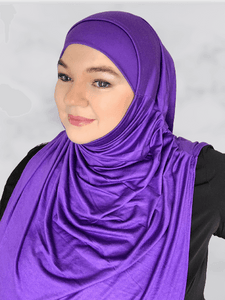 Halima Amethyst two-piece pleated hijab
Simple, soft, comfortable, beginner friendly,  perfect for the busy woman on the go. 
Just pull it on and be done in no time!
The side pleats elevate  this hijab from simple to elegant without  adding  any bulk or needing any extra steps from you.
Every Halima hijab comes with one matching  tube undercap. 
Halima hijab is extra long in the front & back to provide you with a very modest cover.
Made with soft and comfortable  to wear materials. 
One hijab & one matching undercap 
Made of 95 % Rayon and 5% Spandex
Machine wash warm. Tumble dry. No bleach
Handcrafted by Maida's Hijab World LLC